Kieron Webb is The London Barber. He created The London Barber as a hairstyling education brand for men. Kieron started the brand to train aspiring barbers, sharing the knowledge he's built up during over a decade in the industry. The London Barber is also a way for Kieron to educate men on the tricks of the trade – showing them how to use salon techniques to get the style they want.
Kieron knows what he's talking about. When he was 18, he started working for superstar hairdresser Trevor Sorbie and his mentor is renowned stylist Anthony Mascolo, who's been crowned 'British Hairdresser of the Year' three times. Kieron's career has taken him all over the world – across Europe, to the USA and to China, India and Australia.
So what does The London Barber stand for? Kieron says: "It stands for me expressing myself how I want to, without anyone else telling me what to do. I don't want to create these single images – telling people this is how they should look. That's why I wanted to collaborate with Axe, because I saw they were doing something very similar with Find Your Magic."
Kieron admits to not being particularly academically minded. He grew up a more creative-minded man and was always looking to do things that were slightly different with his hair and clothes.
As a child, Kieron was drawn to mod culture – it was different to what was going on when I was young. "I loved the idea of wearing a suit every day. Of looking smart and dapper." This was helped by the fact that the dad of his best friend from school was the tour manager of Paul Weller – The Modfather. I got to see people like the Gallagher brothers and Steve Craddock from Ocean Colour Scene and saw how they expressed themselves through their clothes."
Kieron had hair like Liam Gallagher's, and he loved his gung-ho attitude and the fact that he didn't care what anyone else thought.
"I was one of the kids who got singled out by older lads – but I didn't have many problems with that because I was always confident in myself. People do try to single you out – a lot of the older kids hated me because I was different. I didn't want to be a part of the pack – I wanted to stand out. And I definitely did get bullied because of it."
Kieron doesn't have a one-track mind in advising guys when he's cutting their hair. He tries to teach them how to achieve the style they want by working with what they've got; how to use the hair dryer and products to achieve the looks that work well for their hair.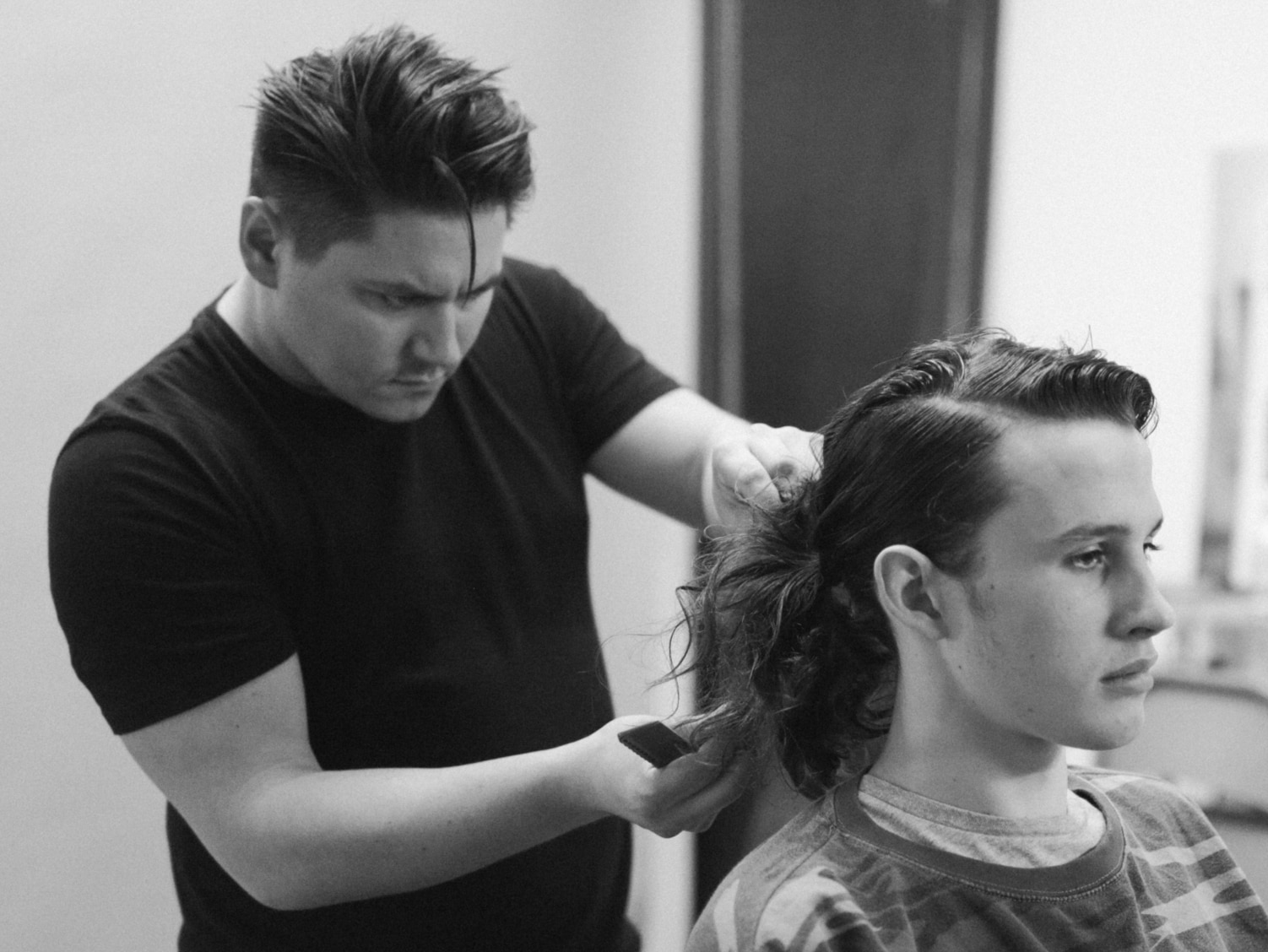 "I'm a teacher. I want to help guys get styles they're really happy with, but using what they've got. The education bit is key. If you don't understand your hair texture, you'll never know how to style it in a way that makes you happy."
Kieron says: "A lot of guys go into a shop and buy the wrong product for their hair, or they might need two products to get the look they want. So it's really important that they know how to do it." It's the same with hair-drying – Kieron often gets his clients to blow-dry their own hair after he's cut it, so they'll know how to do it at home.
Practice makes permanent. I don't say practice makes perfect, because I don't believe anyone's ever perfect. But you'll always know what to do – even if it doesn't go right every day.
Kieron Webb - The LDN Barber
So what's The London Barber's magic? "When I found hairdressing, I found my purpose. This is who I am. For me, my purpose is my magic. It's not the same for everybody, but that's now it's worked for me."
"I'm a kind-natured guy. I want to make sure that everybody gets something. I like to push other people and make sure they do just as well as I am – or even better!"
Kieron really admires people who don't follow the pack. "Not everyone likes the same things – which is why the world works like it does. If you've got the courage to stand out from the crowd, then good on you. Good on you for being you and not conforming to what society says you have to be like."